---
The purpose of the Occasional Papers Series is to highlight research being undertaken by scholars from various academic disciplines who are interested in how decisions made at the municipal, provincial, national, and international level have advanced or compromised the public interest. These publications bring attention to key domestic and foreign policy issues, and how leaders at various levels of government have sought to address them.  In doing so, scholars are able to identify how and under what circumstances leaders were able to affect policy change.
---
An Uphill Battle
This study explores the relationship between several high-level US think tanks and three presidents with whom they tried to convey their ideas about multiple policy issues. In particular, it seeks to explain why presidents George W. Bush and Barack Obama were far more inclined than President Trump to tap into the wealth of expertise available at some of the nation's most distinguished public policy institutes.
Download the PDF
---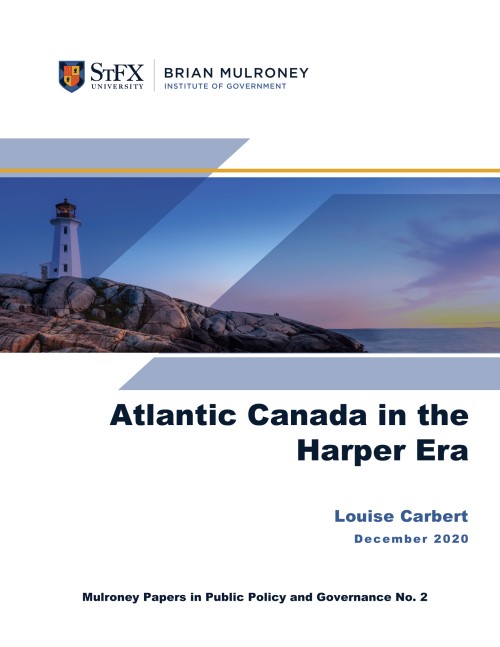 Atlantic Canada in the Harper Era
This study examines tensions that arose between the Atlantic provinces and the Canadian federal government during Stephen Harper's years as prime minister. It assesses to what degree the region's integration within Canada was affected by these tensions, which include the expanding role of offshore resource industries in Newfoundland and Labrador and Nova Scotia, labour mobility, economic-development initiatives, and the issue of political representation, particularly in the Senate. The paper also discusses intra-regional integration and the lingering impacts of the Harper legacy on current and future governments.
Download the PDF
---
Pandemic Federalism: The Case of COVID-19 Response in Canada, Australia, and the United States
The COVID-19 pandemic has challenged governments around the globe. This paper examines responses to the pandemic in three countries: Canada, Australia, and the United States. These countries have similar federal systems and face comparable challenges in coordinating across jurisdictions. As part of a larger long-term project on multi-level policy synchronization in federal systems, this study addresses the question of whether federalism can deliver the appropriate coordination when the public or good policy necessitates it. In this regard, COVID-19 offers a timely and gripping test of the effectiveness of federal coordination while demarcating differences in political culture and social circumstances, and in evolving institutional dynamics.
Download the PDF