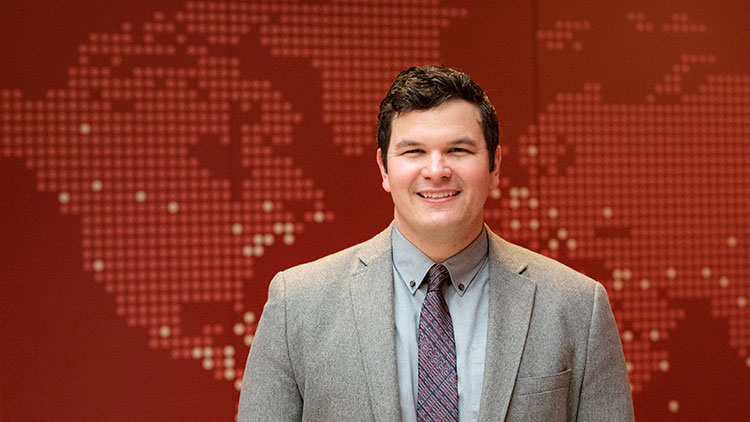 Dr. Peter Kikkert, the Irving Shipbuilding Chair in Arctic Policy at the Brian Mulroney Institute of Government, is having a very good year. Scarcely 12 months into his time at StFX, Dr. Kikkert has received more than $200,000 in funding for various projects he's undertaken in the North. Currently, he is working with northern communities to map existing assets, identify gaps, and provide horizontal coordination to improve search and rescue and emergency response systems in the Arctic.
In the North, community-based groups such as the Canadian Coast Guard Auxiliary, Ground Search and Rescue, Marine SAR Societies, CASARA, and the Canadian Rangers play an essential role in SAR and emergency response. Given the distances involved, the lack of federal and territorial SAR resources in the region, and their knowledge of the land, water, and ice, these groups are the foundation of Canada's Arctic SAR system. As the number of SAR incidents in the North increase, as a result of both climate change and increased human activity, Dr. Kikkert notes that it is "vital that local communities are able to respond quickly and safely" to conduct rescue operations. Dr. Kikkert and his team are conducting crosscutting research that will enhance existing expertise, facilitate knowledge-sharing, and help direct funding to where it is most needed – thus building community capacity and resilience.
This summer, Dr. Kikkert and his two research students, Marcus Cuomo and Brenna Martell, engaged in an aggressive research agenda that matches the myriad areas requiring focus in any study of Arctic challenges and opportunities. Cuomo, a rising senior from St. Johns, NL (and the son of two StFX graduates), was excited to receive Dr. Kikkert's invitation to join the research team. "It was definitely a confidence boost," Cuomo said, "and it made me start thinking seriously about my academic future." In Dr. Kikkert's Public Policy 201 class last year, both Cuomo and Martell stood out as highly engaged students who didn't hesitate to dig into class discussions – characteristics that Dr. Kikkert thought boded well for community-based work in the North.
Under Dr. Kikkert's guidance, Cuomo spent the summer analyzing the Oceans Protection Plan (OPP), a $1.5 billion federal project heralded as capable of both protecting Canada's nation's waterways and boosting the economy. But, as Cuomo has discovered, there are countless layers to the OPP – and he's on a mission to discover exactly how this funding has impacted individual communities in the North. At the conclusion of this research project, Dr. Kikkert and Cuomo plan to publish several papers – a rare and auspicious opportunity to engage in detailed research while an undergraduate.
It is important to Dr. Kikkert that he provide Cuomo and Martell with the same advantages he had early in his own academic career: to work with established faculty and learning the craft of academia in a nurturing setting – all while conducting leading-edge and nation-changing research. Dr. Kikkert credits his work with mentors such as Whitney Lackenbauer, a Tier 1 Canada Research Chair in the Study of the Canadian North at Trent University and Honorary Lieutenant-Colonel of 1st Canadian Ranger Patrol Group, as essential to the establishment of his own research agenda. Their research partnership has continued to grow, and Dr. Lackenbauer is a co-investigator on the project exploring Arctic SAR, emergency response, and community resilience.  And, he notes that scholars as Jackie Dawson and Natalie Carter, whose Arctic Corridors project serves as a model for community-engaged research in the North, have been foundational to the development of his own methodologies.
Indeed, Dr. Kikkert's approach also shares direct kinship with the Asset-Based Community Development model that the Coady International Institute espouses: rather than lamenting weaknesses in existing structures, Dr. Kikkert prefers to identify strengths that are already embedded within northern communities and then work to maximize the efficacy of those strengths by matching them with necessary equipment, technology, and other resources. "Consistency is key," he notes. He will follow up a preliminary trip he made in the spring with another in the fall, this time accompanied by Cuomo and Martell – and their "listen first" approach is essential to the projects' success.  
This fall, Dr. Kikkert will also host a two-day workshop in Ottawa, which will engage a broad range of experts and practitioners on the subjects of mass rescue operations, Arctic sustainment packages, interagency cooperation and coordination, and the use of community assets as force multipliers. Supported by the Department of National Defence's Mobilizing Insights in Defence and Security program, this workshop will allow worldwide experts to share best practices in Arctic and Antarctic marine safety.
During his short tenure at StFX, Dr. Kikkert has set an ambitious research agenda, formed a strong partnership with his colleagues at the Mulroney Institute of Government, created a team of top-notch student researchers, and secured an impressive amount of external funding with which to conduct his ground-breaking (ice-breaking?) research. And, he says, "we're really just getting started."