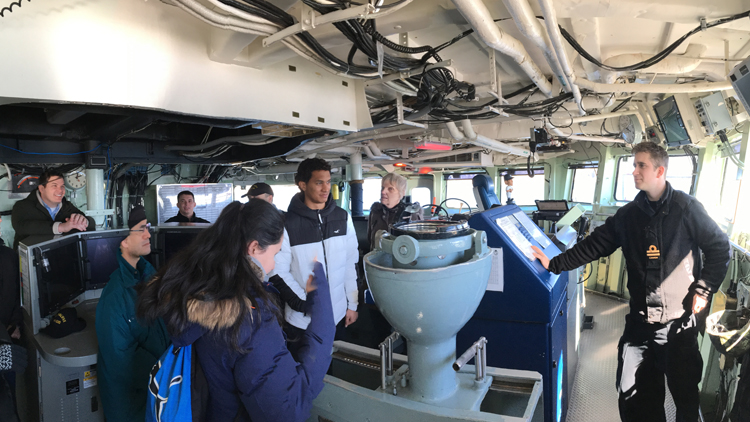 Recently, StFX professors Adam Lajeunesse and Peter Kikkert travelled with students to Halifax, NS, to join up with colleagues from Dalhousie University for a rare opportunity to tour the Royal Canadian Navy's dockyard, put to sea aboard a patrol frigate, and learn about maritime security from the men and women of the Navy. 

Canadian Forces Base Halifax is home to Canada's Atlantic Fleet, a collection of 15 navy vessels, and students were given access to each class of ship. First, small groups were led through the cramped interior of HMCS Windsor, a diesel-electric attack submarine. "From the torpedo room to the tight sleeping quarters, it was an eye-opening look at where sailors have to work while underwater for weeks at a time," Dr. Lajeunesse said. 

Students were also walked through the coastal defence ship HMCS Glace Bay, commonly used for fisheries protection, search and rescue, surveillance, and law enforcement support along the coast. Aboard the Canadian patrol frigate HMCS Halifax, StFX alumnus Lieutenant (N) Peter Bigelow from the Class of 2011, led the group through the operations centre and the bridge, and chatted with students about life at sea while standing next to the ship's 57mm deck gun.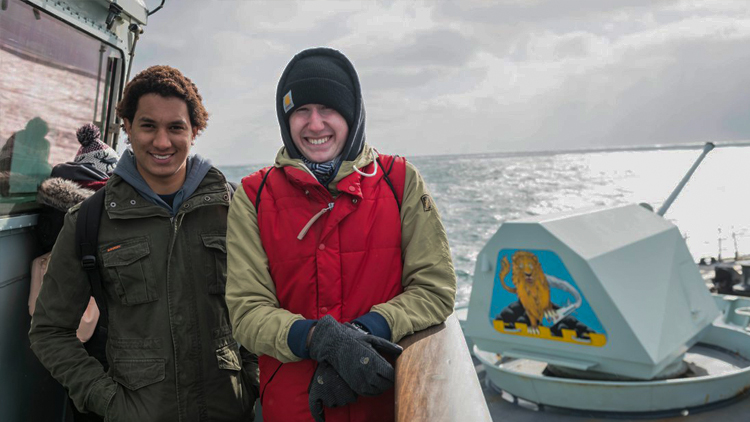 Following the ship tours, StFX students Josh Dupigny and Chris Yurris joined HMCS St. John's for a day-sail into the Atlantic, experiencing what it's like to travel aboard one of Canada's most powerful warships. 

Dr. Lajeunesse said the Brian Mulroney Institute of Government was pleased to be able to sponsor the trip as part of its continuing push to teach students about public policy and encourage learning outside the classroom.