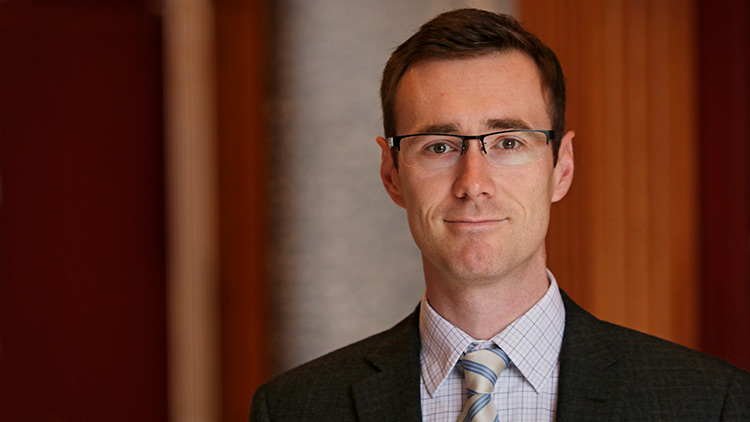 For nearly a decade, Dr. Adam Lajeunesse has studied the complex history of the Canadian Arctic to understand its future.
Now, the book resulting from this research – Lock, Stock and Icebergs, A History of Canada's Arctic Maritime Sovereignty – has earned Dr. Lajeunesse, Irving Shipbuilding Chair in Canadian Arctic Marine Security at StFX's Mulroney Institute of Government, the prestigious $10,000 2017 John Wesley Dafoe Book Prize.
The national book prize recognizes non-fiction about Canada. Dr. Lajeunesse will formally receive the honour at a gala dinner in Winnipeg on May 17.
He said it was a delight to win the award.
"It's a very prestigious recognition at this point in my career, for any academic," Dr. Lajeunesse said.
"It's a great validation of what was almost 10 years of work."
Lock, Stock and Icebergs looks at a century of debates over ownership of the Northwest Passage and Arctic waters. In the book, Dr. Lajeunesse comes at the topic from numerous perspectives including history, economics, politics, international law, geography, security, and why it is that we call these waters Canadian.
"This work is to chart out that evolution," he said, to understand how we got to where we are today.
It's certainly a timely book, he said, as the Arctic has emerged as a hot button topic since coming onto the political landscape around 2005.
Prior to this, people didn't pay much attention to the Arctic, and questions since the 1950s were seemingly comfortably left frozen in time, he said. Now these questions have surfaced and come to the fore again.
The subject sparked his interest, and he completed his masters and PhD work on the history of Canadian sovereignty in the Arctic waters.
"It was an area that seemed understudied. The Arctic is an enormous chunk of Canada, yet most Canadians don't know much about it," he said.
It's an exciting field, constantly evolving, he said.
People too are becoming increasingly anxious and concerned as the Northwest Passage is melting. At the same time, there are those looking forward to new activities as the Arctic warms. And with new actors, including China, becoming involved in the mix, the questions are becoming increasingly global.
"Since the nineteenth century, Canadian governments have claimed ownership of the land and the icy passageways that make up the Arctic Archipelago. Unfortunately for Ottawa, many countries–including the United States–still do not recognize the Northwest Passage as internal Canadian waters," a description of the book reads. 
Crucial to understanding the complex nature of Canada's Arctic sovereignty is an understanding of its history. In Lock, Stock, and Icebergs, Adam Lajeunesse draws on a wealth of recently declassified Canadian and American archival material to chart the origins and development of Canadian Arctic maritime policy–from the earliest police patrols in Hudson Bay to the deployment of nuclear submarines. Detailing decades of internal policy debates, secret negotiations with the United States, and long-classified joint-defence projects, he traces the circuitous history of Canada's official claim to the Northwest Passage and other Arctic waters. 
"Lock, Stock, and Icebergs shows how successive governments spent decades trying to figure out what exactly ownership of these waters entailed. It sets the stage for understanding the challenges Canada now faces as it navigates a rapidly changing Arctic, especially in terms of balancing the political requirements of sovereignty with concerns about the environmental and economic and social development."