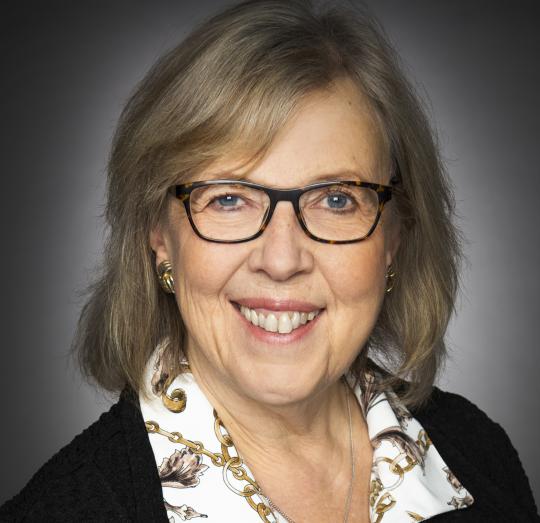 Elizabeth May is one of Canada's best-known parliamentarians and is a lifelong environmental advocate.
She served as Leader of the Green Party of Canada from 2006 to 2019, and she has served as the co-leader since 2022. She is the Green Party of Canada's first elected Member of Parliament (MP), representing Saanich–Gulf Islands on the territory of the W̱SÁNEĆ Nation since 2011. She continues to serve as an MP and is the Parliamentary Leader of the Green caucus.
Although her family's financial reverses in running a restaurant on Cape Breton Island prevented Elizabeth from obtaining an undergraduate degree, she was able to work her way through law school as a mature student in the early 1980s.  She cut her teeth in an epic legal struggle against corporate might and toxic chemicals in the fight to prevent the spraying of Agent Orange in Nova Scotia. She graduated from Dalhousie Law School and was admitted to the Bar in both Nova Scotia and Ontario. She practised law in Ottawa with the Public Interest Advocacy Centre prior to becoming senior policy advisor to the federal Minister of the Environment (1986–88). During her time with Environment Canada, she was instrumental in the creation of several national parks, including Gwaii Haanas in Haida Gwaii. She served as executive director of the Sierra Club of Canada for 17 years.
Elizabeth has taken stands that involved dramatic protests. In May 2001, Elizabeth went on a 17-day hunger strike in front of Parliament Hill, protesting environmental racism in the toxic living conditions for residents near the infamous Sydney Tar Ponds in Cape Breton. The federal government ended her protest committing $400 million for the cleanup. In March 2018, Elizabeth was arrested while protesting against the Kinder Morgan pipeline, a course of action in non-violent civil disobedience inspired by Gandhi and Martin Luther King, Jr.
Her environmental work has been profiled in numerous documentaries, including in the final episode of the acclaimed CBC series, Canada: A Peoples' History. Elizabeth is the recipient of many awards, including the Outstanding Achievement Award from the Sierra Club in 1989, the International Conservation Award from the Friends of Nature, the United Nations Global 500 Award in 1990, the award for Outstanding Leadership in Environmental Education from the Ontario Society for Environmental Education in 1996, and the Harkin Award from the Canadian Parks and Wilderness Society in 2002. In 2005, Elizabeth May was made an Officer of the Order of Canada in recognition of her decades of leadership in the Canadian environmental movement. In 2006, Elizabeth was presented with the prestigious Couchiching Award for excellence in public policy. She was also named one of the world's leading women environmentalists by the United Nations that same year.
A proud mother and grandmother, she lives in Sidney, British Columbia, with her husband John Kidder. Elizabeth is the author of nine books, including her most recent revised book, Climate Change for Dummies.