When former St. Francis Xavier University president Dr. Sean Riley and Tim Lang, his vice president, boarded a plane bound for Palm Beach, Florida, in March 2012, they had a singular goal: to convince Brian Mulroney to spearhead what would become the largest fundraising campaign in the history of StFX. Mr. Mulroney did not require much convincing. The 18th prime minister of Canada, and member of StFX's graduating class of 1959, had remained a staunch and loyal supporter of his alma mater from the time he began his undergraduate studies in the fall of 1955. Heeding his father's advice that "the only way out of a pulp and paper town is through a university door," Mr. Mulroney never forgot what StFX had done for him. It was at this small liberal arts university nestled in the heart of Antigonish, Nova Scotia, that Mr. Mulroney found his voice, and it was where he acquired a skill set that would serve him well in the private sector as a distinguished lawyer and executive, and as a world statesman.
In the late 1970s, and early 1980s, Mr. Mulroney agreed to assume the lead on a fundraising project for StFX. With a goal of $6–7 million, Mr. Mulroney would raise $12 million which, among other things, led to the construction of an aquatic centre on campus. But what Dr. Riley had proposed at the March 12 meeting was significantly more ambitious, a $25 million campaign that would help build Mulroney Hall and the Brian Mulroney Institute of Government. For six years, Mr. Mulroney criss-crossed the globe at his own expense to secure funds for this initiative. What had begun as a $25 million campaign would bring in $105 million in donations, $65 million of which came from the private sector, including a $1 million donation from Mr. Mulroney. Today, the names of those benefactors adorn the Donors Wall in the magnificent foyer of Mulroney Hall.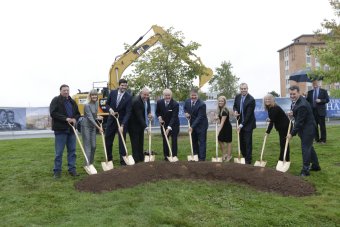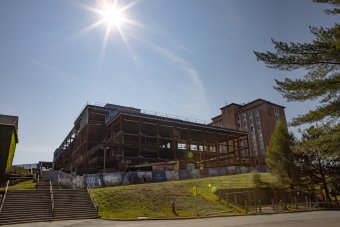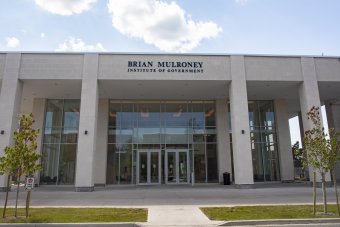 Housed in Mulroney Hall, a state-of-the art teaching and research complex, the Brian Mulroney Institute of Government is a testament to the vision and generosity of StFX's most esteemed graduate. By creating a world-class learning environment, and by raising millions of dollars in scholarships and bursaries to support eligible students enrolled in the Public Policy and Governance Program, it is Mr. Mulroney's hope that future generations of students will be inspired to leave a lasting impact on Canada. It is also his hope that researchers engaged in the study of timely and policy relevant issues in the Brian Mulroney Institute of Government will share their expertise not only with the students they teach, but also with all those in Canada who rely on informed and reasoned policy analysis to improve policymaking at all levels of government. Mr. Mulroney's vision is shared and embraced by the entire StFX community.