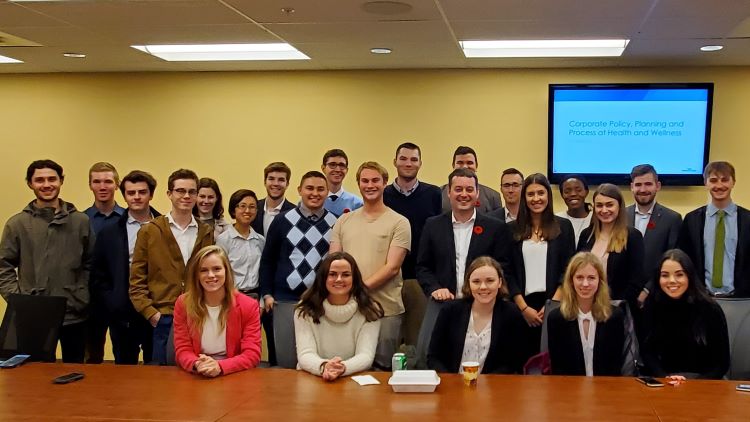 Public Policy and Governance (PGOV) students from StFX had the opportunity to experience their studies firsthand when they travelled to Halifax, November 8, 2019 to meet and engage with provincial politicians and policymakers. 
The field trip came about after Dr. Peter Kikkert, Irving Shipbuilding Chair in Arctic Policy at StFX's Brian Mulroney Institute of Government, asked Antigonish MLA and Minister of Health and Wellness Randy Delorey if arrangements could be made to bring the group of students to Halifax. 
Minister Delorey arranged meetings for the students with officials in several departments, including finance, executive council, health, and environment. 
"This was all about exposing the students to the different career pathways that public policy can take them on," Dr. Kikkert said, "and to hear from the actual practitioners on the skills they should be working on as they complete their undergraduate degree.'
He said the experience also gave the students the chance to ask relevant and timely questions on issues and themes they're currently studying. 
Students said the experience was terrific.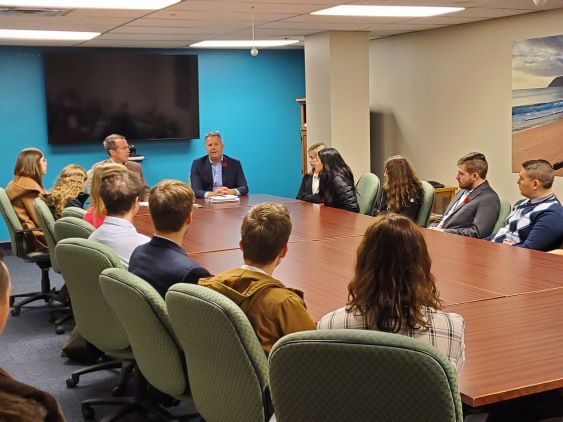 "The trip was a really meaningful opportunity to witness firsthand potential career opportunities and paths I can follow with my undergraduate degree in public policy. It opened my eyes to the broad scope of work within the government and bureaucracy and the possibility I have to work in a position and department that I feel extremely passionate about," said second-year PGOV student Chloe Walker from Ottawa, ON.
"A few highlights for me were definitely meeting with the Ministry of the Environment and connecting with my fellow classmates. I left the trip feeling excited about my future as a graduate from StFX's public policy program and a clearer understanding of how I will apply my knowledge from StFX to life beyond the classroom. Special thanks to both Professor Kikkert and Professor (Adam) Lajeunesse, as well as Minister Delorey and all the others we met for making this experiential learning opportunity possible."
Hannah Peters of Herring Cove, NS, a third-year PGOV student, agreed the field trip was an excellent experience. 
"Being from Nova Scotia and getting an inside look into how various departments in the provincial government work was fascinating. Meeting the departments of environment, finance, health, and the executive council was exciting to see how the different areas process their policies," she said. 
"We had lunch with Minister Randy Delorey. It was interesting to sit down and talk to him about various issues, and his background on how he became the Minister of Health. It was intriguing to hear the different experiences and education of individuals in the policymaking fields in the departments." 
"To me, the trip was a great eye-opening experience," said second year honours public policy and governance student Matthew Stepien from Stoney Creek, ON. "Since so often in the PGOV program we are taught about 'the government' and the policies that it implements, but I never truly understood the people who are involved in making the government operate on a day-to-day level. This trip really went a long way to showing how the hard work of government is done by a number of dedicated and hardworking individuals."
COMPLEMENTS ACADEMIC EXPERIENCE
Minister Delorey said he was happy to help coordinate the experiential learning opportunity for students of StFX's Public Policy and Governance Program with the Government of Nova Scotia, giving them the opportunity to hear directly from front-line public servants complements the academic learning that takes place in the classroom, helping provide additional context and reference points for past and future coursework, and adding another layer to the learning.  
"I believe the meetings also provided practical value for students by providing insights into the specific work being done by policy staff within the public sector as well as the diverse range of backgrounds serving in these important roles."
Minister Delorey said he was also pleased to have the opportunity, both as a local MLA and as minister of Health and Wellness, to join the students for a Q&A session, along with a number of department employees who are StFX alumni. The alumni provided introductions, including comments on their studies at StFX and their work experience with the province. 
"These discussions provided insight into the variety of career opportunities despite seemingly unrelated undergraduate studies, which hopefully put students at ease to know that there remain many career path options once they successfully complete their studies at StFX," he said.
"Finally, I would like to acknowledge the willingness of the many public servants who participated to make this experience possible. Every department approached agreed to participate, and the Executive Council Office jumped at the opportunity and offered to facilitate the detailed coordination between departments and StFX. The feedback from all who participated was very positive–students seemed to genuinely appreciate the insights and employees valued the interest students placed in their work."