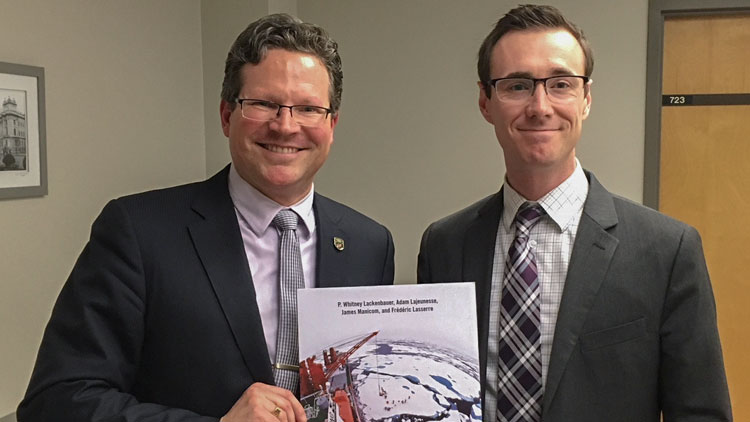 Over the past several years, China has dramatically increased its activity and investment in the circumpolar Arctic. A self-described "Near Arctic State," Beijing's growing polar capabilities have caused confusion and even alarm in some quarters, as its motivations and objectives remain uncertain. This important development in circumpolar affairs is the subject of a new book, launched in December 2017 by Dr. Adam Lajeunesse, the Irving Shipbuilding Chair at the Mulroney Institute of Government at StFX.
The book, China's Arctic Ambitions, delivers a nuanced assessment of the growing Chinese interest in northern resources, shipping, science, and governance. Drawing on extensive research in government documentation, academic literature, and business and media reports, this book eschews the common assumption that China poses an acute threat to Arctic states' polar interests. Instead, it offers a nuanced assessment of how different Chinese stakeholders approach the region and how carefully managed relationships can contribute to positive circumpolar development.
Dr. Lajeunesse, and co-author Whitney Lackenbauer of St. Jerome's University, presented the book's most important conclusions and led a spirited debate on the subject at an event organized by the University of Calgary Press.
China' Arctic Interest is available for purchase in January 2018 and will be followed by more Arctic security research in the coming months as the Mulroney Institute develops its Arctic security research theme, Dr. Lajeunesse said.