---
The purpose of the Occasional Papers Series is to highlight research being undertaken by scholars from various academic disciplines who are interested in how decisions made at the municipal, provincial, national, and international level have advanced or compromised the public interest. These publications bring attention to key domestic and foreign policy issues, and how leaders at various levels of government have sought to address them.  In doing so, scholars are able to identify how and under what circumstances leaders were able to affect policy change.
---
An Uphill Battle
This study explores the relationship between several high-level US think tanks and three presidents with whom they tried to convey their ideas about multiple policy issues. In particular, it seeks to explain why presidents George W. Bush and Barack Obama were far more inclined than President Trump to tap into the wealth of expertise available at some of the nation's most distinguished public policy institutes.
Download the PDF
---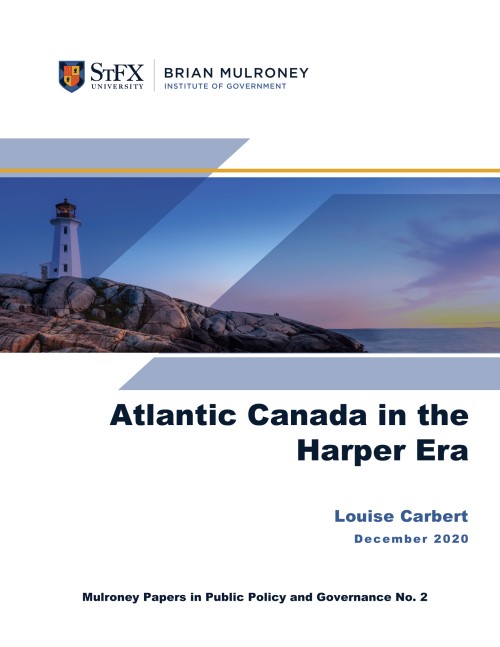 Atlantic Canada in the Harper Era
This study examines tensions that arose between the Atlantic provinces and the Canadian federal government during Stephen Harper's years as prime minister. It assesses to what degree the region's integration within Canada was affected by these tensions, which include the expanding role of offshore resource industries in Newfoundland and Labrador and Nova Scotia, labour mobility, economic-development initiatives, and the issue of political representation, particularly in the Senate. The paper also discusses intra-regional integration and the lingering impacts of the Harper legacy on current and future governments.
Download the PDF
---
Pandemic Federalism: The Case of COVID-19 Response in Canada, Australia, and the United States
The COVID-19 pandemic has challenged governments around the globe. This paper examines responses to the pandemic in three countries: Canada, Australia, and the United States. These countries have similar federal systems and face comparable challenges in coordinating across jurisdictions. As part of a larger long-term project on multi-level policy synchronization in federal systems, this study addresses the question of whether federalism can deliver the appropriate coordination when the public or good policy necessitates it. In this regard, COVID-19 offers a timely and gripping test of the effectiveness of federal coordination while demarcating differences in political culture and social circumstances, and in evolving institutional dynamics.
Download the PDF
---
Wisdom of the Mundane: Explaining Regime Resilience in Multinational Federations
For decades, many English-speaking political scientists in Canada focused on the Canada–Québec relationship and probing the challenges to national unity posed by Québec nationalism. With these issues allayed to a large extent, there has been a shift in the twenty-first-century research agenda of scholars who study Canada. Yet, there remains a sub-field of research in which the Canada–Québec relationship maintains a central place: the comparative study of multinational democracies and multinational federations. With Canada having progressed into a state of "normality" and stability, but with no settled answer on what makes democratic multinational states cohere and persist, the study of political stability is still a topic to be mined. This paper argues that the legitimacy and stability of the Canadian political community and the resilience of its political regime come as the consequences of historical processes best described as "accommodative integration." The paper outlines the political mechanisms and processes involved in the task of national integration by examining the scholarly approaches that have been developed and the debates that have ensued on what has come to be known as Canada's "national unity" question.
Download the PDF
---
Tax Evasion, Tax Avoidance, and National Culture
The Panama Papers leak revealed how the influential and wealthy can exploit secret offshore tax regimes to conceal unreported assets. This paper is a multi-country study focusing on the impact of a country's national cultural values on individual evasion of investment income via an international evasion scheme. It provides insights to policy-makers that suggest that individual investors behave differently than corporations under the same national culture. High tax-evading countries cannot be specifically identified based on shared cultural values. Estimating widespread tax evasion tendencies based on a particular cultural profile may not be fruitful for policy-makers. Instead, the paper posits that to improve tax compliance, policy-makers should look to methods other than ameliorating culture, such as increasing the penalties for tax evasion.
Download the PDF
---
Shopping for State, Shopping for Cannabis at the Nova Scotia Liquor Corporation
After having criminalized cannabis users for years, Canada is now one of the few federal jurisdictions in the world to legalize recreational cannabis sales and consumption. This paper examines the question that arises from this radical shift: how the state negotiates its legitimacy as it transforms the official meaning of cannabis from dangerous drug to legal consumable, offering itself (in the case of Nova Scotia) as the only lawful vendor of cannabis. The paper is rooted in a broader interest in the Canadian state and state formation at the provincial and federal levels, especially the liberal or liberalizing state.
Download the PDF
---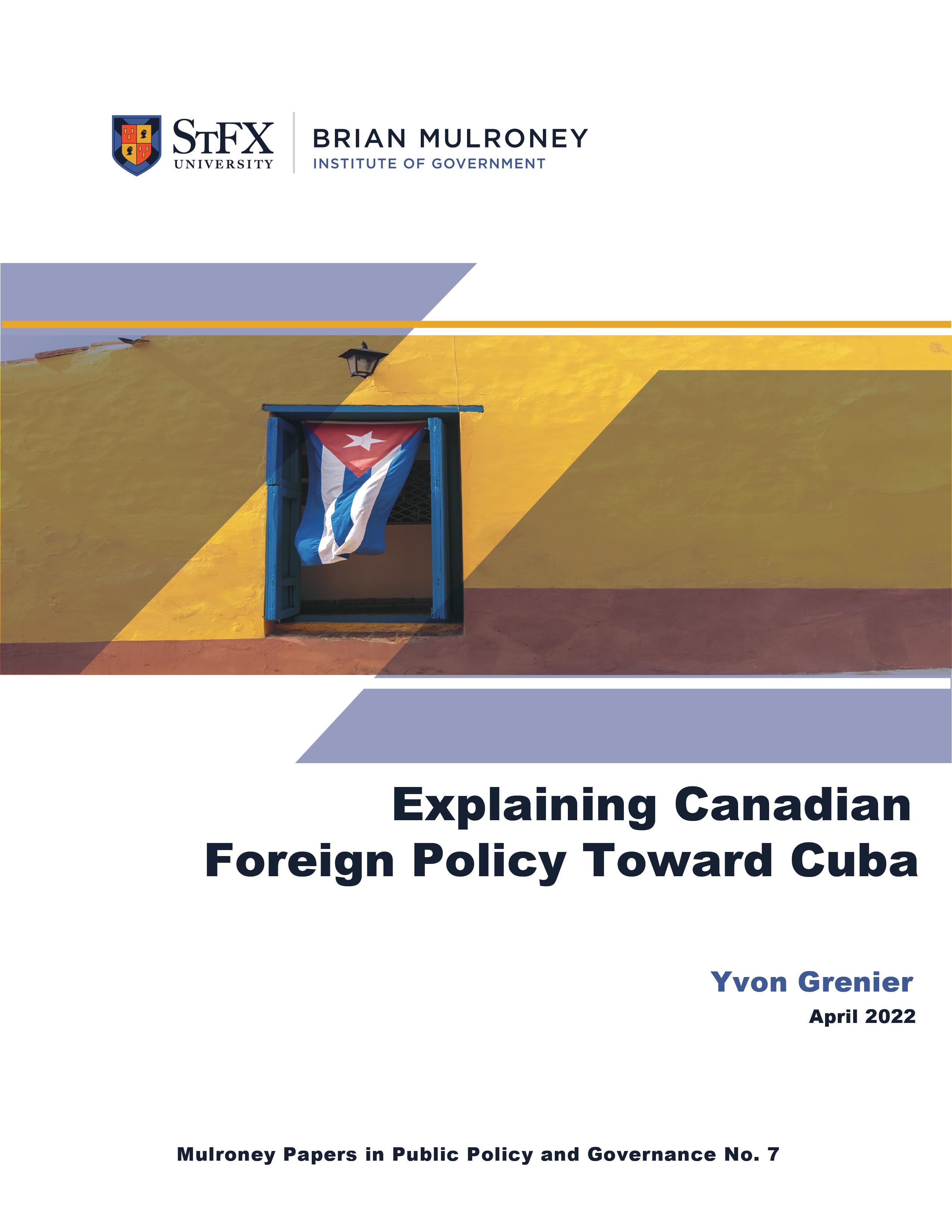 Explaining Canadian Foreign Policy Toward Cuba
Currently, Canada has sanctioned or imposed related measures against 21 countries as a show of opposition for these nations' violations of human rights and democratic norms. In the Americas, Nicaragua and Venezuela, two of the three non-democratic countries, are sanctioned on these grounds. Yet, the most authoritarian of the three, Cuba, is not. Indeed, Canada considers Cuba an "ally." How can this apparent inconsistency be explained? This paper suggests that to understand Canadian foreign policy on Cuba, one needs to examine the opportunities at both ends of the bilateral relationship. More specifically, this paper focuses on two variables: opportunities for democratization in Cuba and opportunities to prioritize human rights and democratic norms. The paper posits that neither opportunity is present in Canada–Cuba relations.
Download the PDF
---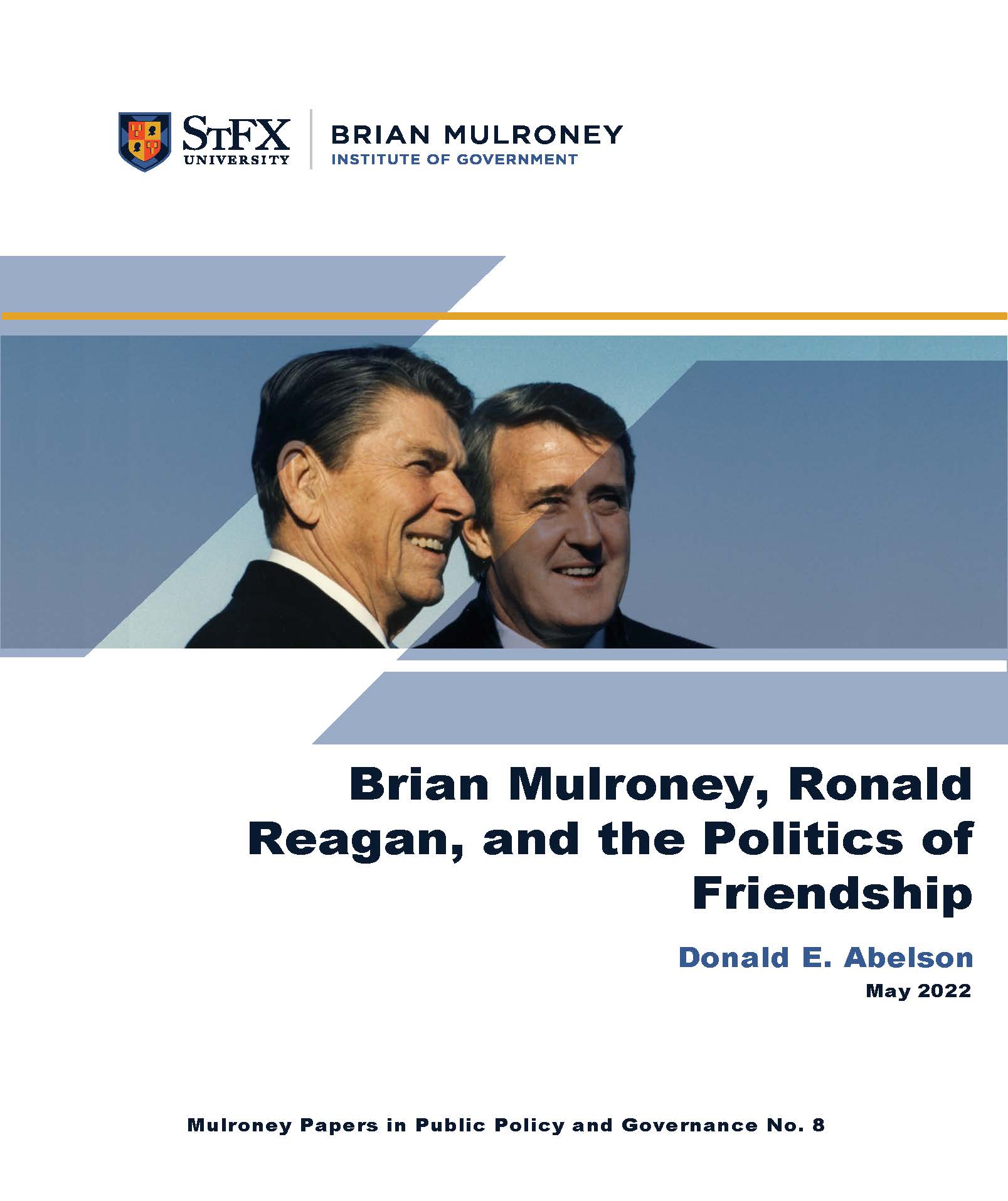 Brian Mulroney, Ronald Reagan, And The Politics Of Friendship
The academic literature on international diplomacy rarely gives attention to the important role that friendship between world leaders can play both in advancing shared policy goals and in finding ways to express and contain disagreement, often publicly, when the costs of political fallout may be profound. Significant consideration has not been given to how leaders representing the sovereign interests of their respective states work with each other even when they find themselves at odds over the direction of various policy initiatives. The purpose of this paper is not to provide a definitive history of the personal and professional relationship forged by Brian Mulroney and Ronald Reagan. Rather, this paper reveals how their friendship created multiple opportunities to find common ground, even when their political and policy agendas did not necessarily align.
Download the PDF
---
"On The Right Side of History": Brian Mulroney's Enduring Battle Against Antisemitism
In Judaism, the number 18 holds special meaning. Eighteen is the numerical value of the Hebrew letters that spell chai: the Hebrew word for life and a symbol of vitality and good luck. That Brian Mulroney was the 18th prime minister of Canada, then, may be more than serendipitous. A staunch supporter of Jews, Mulroney established a trusted relationship with Canada's Jewish community and has consistently called out antisemitism. Although historians and political sciences have studied the relationship between several prime ministers and the state of Israel, far less consideration has been paid to how, and the extent to which, they have interacted with Canada's Jewish community. Indeed, little is known about the level of commitment by prime ministers in ensuring the well-being of Jews as related to Canada. Thus, by extension, few scholars have examined the robust relationship between Brian Mulroney and Canada's Jews, his ongoing concerns over their treatment and security (and that of Israel), his warnings about the increase in antisemitism, and his motivation for publicizing and redressing the Jewish plight. This paper seeks to fill this void and serves as a testament to how leaders should lead.
Download the PDF