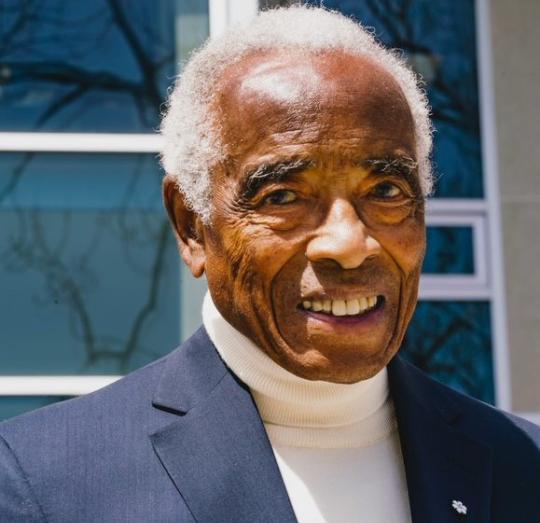 The Honourable Dr. Donald H. Oliver, CM, ONS, QC
The Hon. Dr. Donald H. Oliver CM., ONS., QC., was born in Wolfville, NS, son of Clifford and Helena Oliver, on 16 November 1938. He graduated from Wolfville High School, Acadia University (BA, Hons. History) and Dalhousie Law School (a Sir James Dunn Scholar), LL.B, and he has been conferred five honorary degrees of Dr. Of Civil Law from Canadian universities.  
After practicing law in Halifax with Stewart McKelvie Stirling and Scales for 23 years while having concurrently taught law at three universities, he was summoned to the Senate of Canada on 7 September 1990, by the Rt. Honorable Brian Mulroney where he served for 23 years. In a forward to Oliver's recent book, A Matter of Equality, Mulroney wrote, "Donnie Oliver was to become the first Black man in Canadian History to be appointed to the Senate of Canada. I knew that day that Canada and the cause of equality would be the principal beneficiaries of this appointment, because Donnie Oliver would bring enlightened leadership and unrelenting commitment to this noble cause." In the Senate, he served as chair of six Standing Committees and was unanimously elected Speaker Pro Tempore.  
Oliver actively served more than 25 service and charitable communities in Nova Scotia as president and chair for organizations like the Children's Aid Society.  
He actively contributed to the visual and performing arts, as chair of the Neptune Theatre and on the Board of the Art Gallery of Nova Scotia.  He is an honorary Life Director of both organizations.  
His most significant work has been actively engaged in breaking down barriers of Anti-Black systemic Racism in the Institutions of Canada for more than 50 years. For this, he was awarded the Governor General's Commemorative Medal, the Queen Elizabeth 11 Diamond, Golden, Silver, and Platinum Jubilee medals, and the Canada 150 Medal for unselfish service to community and country. He has also received two of the country's highest honours:  The Order of Canada and the Order of Nova Scotia. 
He is married to Linda (née MacLellan). They have one daughter, Carolynn, and they have enjoyed reading, travel, golf, skiing, gardening, and entertaining.