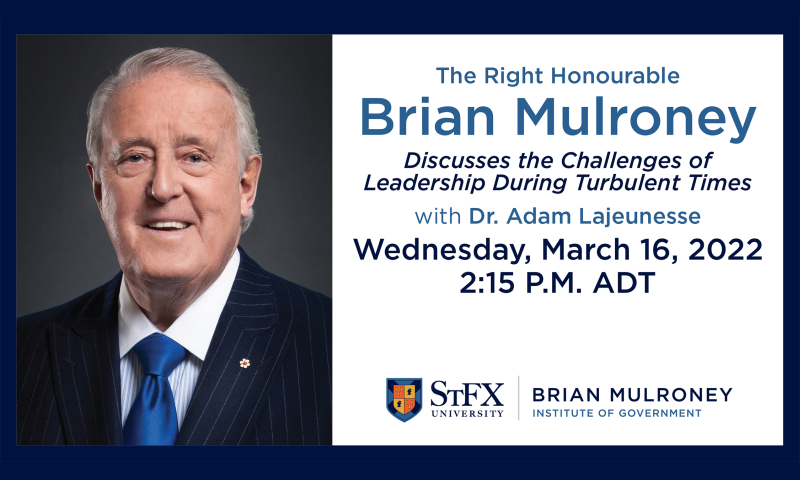 A Virtual Discussion on the Challenges of Leadership During Turbulent Times with The Right Honourable Brian Mulroney
The Brian Mulroney Institute of Government Distinguished Speakers Series Presents
A Virtual Discussion on the Challenges of Leadership During Turbulent Times with The Right Honourable Brian Mulroney
Wednesday, March 16, 2022
2:15 pm­–4:15 pm (AST)
The Brian Mulroney Institute of Government at StFX is proud to welcome the Right Honourable Brian Mulroney, the 18th prime minister of Canada, as part of our Distinguished Lecture Series. As the world struggles to manage considerable geopolitical tension and social change, leadership and creativity in public policy have never been more important. Drawing on his time in politics managing a host of complex policy problems, Prime Minister Mulroney will discuss his views on the issues facing the world today – and how Canada can rise to the challenge.
The talk will be moderated by Dr. Adam Lajeunesse, the Irving Shipbuilding Chair in Canadian Arctic Marine Security and an Assistant Professor at the Mulroney Institute.
The Prime Minister's discussion with Dr. Lajeunesse can be viewed here.