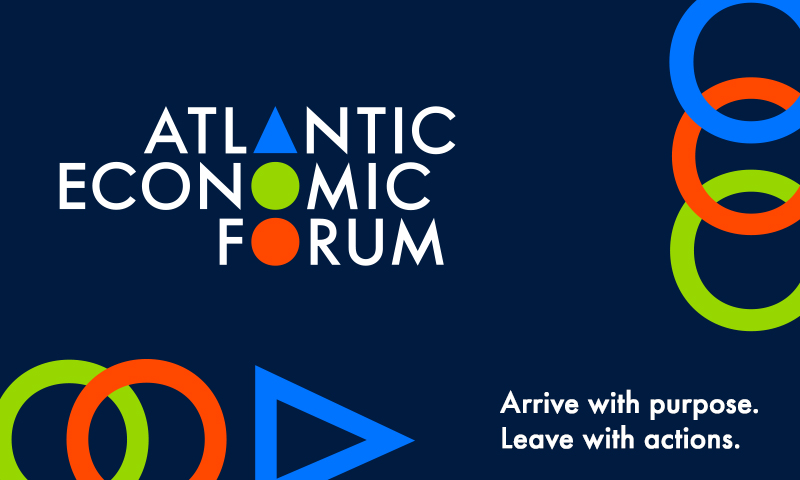 Mulroney Institute of Government
The Atlantic Economic Forum
---
Monday, June 19, 2023
3:00 pm

Arrival at StFX

Hotel/residence check in & registration
Tours of Mulroney Hall

5:00 pm
MULRONEY HALL - JOYCE FAMILY ATRIUM
Cocktail reception & networking
Mistress of Ceremonies: Cynthia Dorrington: President, Vale & Associates
5:45 pm
Welcoming remarks & Indigenous land acknowledgement

Dr. Andy Hakin

, President of StFX

Indigenous Ceremonial Opening

6:00 pm

Introduction of Keynote Speaker

TAKING STALK OF THIS MOMENT: Global Change & Inclusive Regional Economic Growth Opportunities for Atlantic Canada
Keynote speaker to be announced

6:45 pm
Thank you & presentation to keynote speaker
7:30 pm
Charles V. Keating Centre
Dinner
8:00 pm
Welcoming Remarks

Hon. Tim Houston

, Premier of Nova Scotia

Hon. Sean Fraser

, Minister of Immigration, Refugees, and Citizenship and MP for Central Nova

9:00-10:00 pm
Post-dinner reception & networking
Tuesday, June 20, 2023
8:00-8:45 am
MULRONEY HALL
Breakfast
8:45-10:15 am
MULRONEY HALL - BARRICK AUDITORIUM

Opening plenary session:
Sponsored by MITACS

Inclusive Employment, Youth Skills Entry & Innovative Job Markets
Keynote Speaker:

Tashmia Ismail-Saville

, Chief Business Development Officer, MITACS

KEY TRENDS & DEVELOPMENTS IN ATLANTIC CANADA'S ECONOMY SINCE 2010: Demographic Change, Trade, & Productivity, Emerging Strengths & Weaknesses
Keynote Speaker:

Dr. Herb Emery

, Vaughan Chair in Regional Economics, University of New Brunswick

Additional keynote speakers for the opening plenary session to be announced

10:15-10:45 am
Networking Break
10:45 am-12:00 pm
MULRONEY HALL

Concurrent Panel Sessions
Atlantic Canada's Economic Challenges and Opportunities

A TRANSFORMING LABOUR FORCE: diversity, immigration, workplace culture, skills shortages.
Sponsored by JD Irving Ltd.

URBAN GROWTH & HOUSING CHALLENGES IN ATLANTIC CANADA: urban and rural dynamics in Atlantic economic development - risks and opportunities.

PUBLIC FINANCES & SUSTAINABLE SERVICES: post-pandemic prospects and choices.

Moderator: Chris MacDonald, Vice President, Government Relations, JD Irving Ltd.
Panelists:

Andrew Parkin


Executive Director, Environics Institute

Kelly Lendsay


CEO, Indigenous Works

Christiane Fox


Deputy Minister of Immigration, Refugees and Citizenship Canada

 

Moderator: Glenn Horne, Chief Administrative Officer, Municipality of the County of Antigonish
Panelists:

Dr. Robert Greenwood


Director of the Leslie Harris Centre of Regional Policy and Development at Memorial University of Newfoundland

Amanda McDougall-Merrill


Mayor, Cape Breton Regional Municipality

Wendy Luther


President & CEO, Halifax Partnership

Moderator: Dr. Bobbi Morrison, Schwartz School of Business, StFX University
Panelists:

Karen Oldfield


CEO, NS Health

Patricia Hearn


NL Deputy Minister - Department of Immigration, Population Growth and Skills + Intergovernmental Affairs

12:00-1:15 pm

Lunch
Sponsored by Sodexo

1:15-2:30 pm
MULRONEY HALL

Concurrent Panel Sessions:
Atlantic Canada's Economic Challenges and Opportunities

NEXT GENERATION TECHNOLOGY SECTORS: start-ups, education, finance, infrastructure.

AGRI-FOOD, FISHERIES, & FOOD SECURITY: new markets, new products, new players.

GREEN ECONOMY, CARBON REDUCTION, & ENERGY FUTURES

Moderator: Daryl Genge, CEO Springboard Atlantic
Panelists:

Dr. Dhirendra Shukla


Dr. J. Herbert Smith ACOA Chair, University of New Brunswick

Michelle Simms


President & CEO, Genesis

Julia Rivard Dexter


Co-Founder Shoelace Learning

 

Moderator: Dr. Marcia English, Associate Professor Human Nutrition, StFX University
Panelists:

 

Dr. Sylvain Charlebois


Director, Agri-food Analytics Lab, Dalhousie University

Chief Terry Paul


Membertou First Nation, Clearwater

Sue Coueslan


Vice President, Natural Products Canada


 

 

Moderator: Alisdair McLean: Executive Director, NetZero Atlantic
Panelists:

 

Jennifer Wagner


Breakthrough Energy Fellow

Trent Vichie


CEO Everwind Fuels

Dr. Larry Hughes


MacEachen Institute for Public Policy and Governance, Dalhousie University

 

2:30-3:00 pm
Networking Break
3:00-4:30 pm
MULRONEY HALL - BARRICK AUDITORIUM

Plenary Session:
Sponsored by Business Council of Canada

Opening Remarks:

Goldy Hyder

, CEO Business Council of Canada

Realizing Economic Potential in Atlantic Canada:
An Investor's Perspective - A Discussion with KEN LANGONE: CEO, Invemed

Interviewer:

Annette Verschuren

, Chair and CEO, NRSton Inc.

6:00 pm
CHARLES V. KEATING CENTRE
Cocktails
6:30-9:00 pm

Dinner & fireside chat
Sponsored by Emera
Master of Ceremonies: Dr. Don Abelson, Director Brian Mulroney Institute of Government

COALITION FOR A BETTER FUTURE:
Emerging Economic Opportunities for Atlantic Canada & the CFB Scorecard

Hon. Lisa Raitt
Hon. Anne McLellan

Moderator to be announced

9:00-10:00 pm
CHARLES V. KEATING CENTRE
Post-dinner reception & networking
Wednesday, June 21, 2023
7:30-8:30 am
MULRONEY HALL
Breakfast
8:30-10:00 am
MULRONEY HALL - BARRICK AUDITORIUM

Closing plenary session
Indigenous Business & Economic Development Opportunities for Atlantic Canada

Moderator: Jarvis Googoo, Director, Atlantic Indigenous Economic Development Integrated Research Program

Panelists:

Rose Paul

, CEO & President Bayside Corporation

Mary Beth Doucett

, Assistant Professor and Purdy Crawford Chair in Aboriginal Business Studies, Shannon School of Business, Cape Breton University

Kelly Lendsay

, CEO, Indigenous Works

Chris Googoo

, We'koqma'q First Nation & CEO, Ulnooweg

10:00-10:30 am
Networking Break
10:30 am-12:15 pm

Policy Leaders Panel:
Strategic Direction & Next Steps for Economic Development in Atlantic Canada
Sponsored by Saltwire Network

Moderator: Mark Lever, President & CEO, Saltwire Network
Panelists:

Hon. Blaine Higgs

, Premier of New Brunswick

Hon. Andrew Furey

, Premier of Newfoundland & Labrador

Hon. Dennis King

, Premier of Prince Edward Island

Hon. Sean Fraser

, Minister of Immigration, Refugees and Citizenship

Panelists to be announced.

12:15-12:30 pm

Rapporteur's Summary & Concluding Remarks:

Rapporteur:

Charles McMillan, Author, Professor of Strategic Managment and International Business, York University

12:30-1:00 pm
Media scrum/press conferences
12:30 pm
Lunch
12:30-3:00 pm
Breakout spaces available for further discussions
The Hon. Tim Houston
The Hon. Andrew Furey
The Hon. Blain Higgs
The Hon. Sean Fraser
The Hon. Anne McLellan
Ken Langone
The Hon. Frank Mckenna
The Hon. Frank Mckenna
Dr. Herb Emery
Andrew Parkin, Ph.D.
Kelly J. Lendsay
Dr. Robert Greenwood
Michelle Simms
Chief Terry Paul
Shelly King
The Hon, Lisa Raitt
Atlantic Canada is entering an exciting period of growth and opportunity, and the inaugural Atlantic Economic Forum will bring together local, national, and global leaders in business, government, and economic development together to help build a more prosperous future for our region.
This forum is purposefully designed for leaders to connect and strategize ways to take action, focusing on the challenges facing Atlantic Canada and the many opportunities for renewed growth.
Featuring keynotes, discussions, and debates on our most pressing market-related topics, the Forum will inspire, accelerate, and create tangible economic progress for our region.
We hope you will join us.
THANK YOU TO OUR SPONSORS